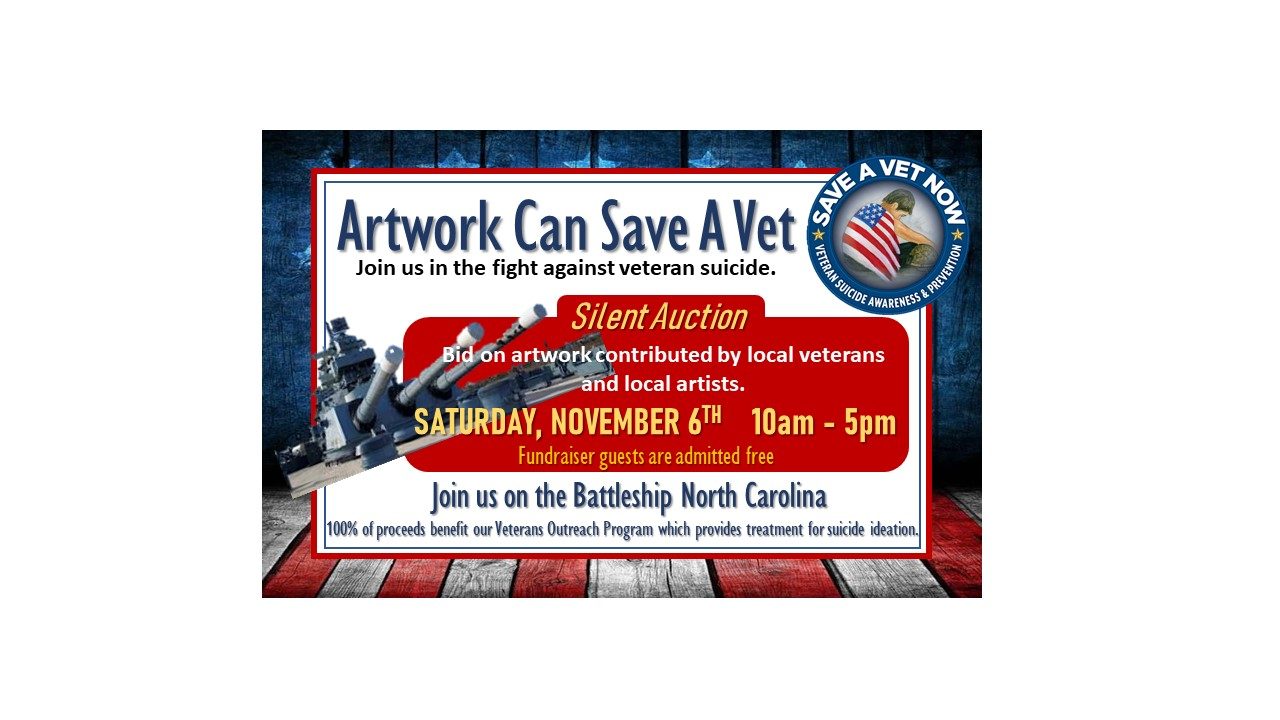 Hello Local Artists,
On November 6th, Save A Vet Now, a local non-profit dedicated to veteran suicide awareness and prevention, will hold its Artwork Can Save A Vet Fundraiser to benefit its Veterans Outreach Program administered by Wilmington's Coastal Horizons. One hundred percent of the proceeds are earmarked specifically for the treatment of local veterans with suicide ideation.
The event will spotlight artwork produced by local veterans, but the main idea is to feature local artists wishing to donate a piece of their own artwork to this worthy cause. Marketing will center on the theme of Local Artists Helping Local Veterans.  Sales will be made by silent auction, with a minimum starting bid set at 80 percent of retail value and with appropriate minimum increments.
If you are willing, please provide artwork of any size which is reflective of your best effort. Contributions should be in a state comparable to retail sales.  Paintings must be originals and suitably framed.  Please provide your name and contact info, your company if applicable, a description of your donation, and the suggested retail price for your contribution. Save A Vet Now will recognize your donation in letter form which you can use for tax purposes.
Save A Vet Now will accept donated artwork from 1:00PM to 4:00PM on September 25, 2021 at Inspirations Dance Centre at 91 W Boiling Springs Road, Southport NC 28461.
Please check back for more artwork collection sites to be announced.