Please enjoy the videos from our 2021 Solstice by the SEA Festival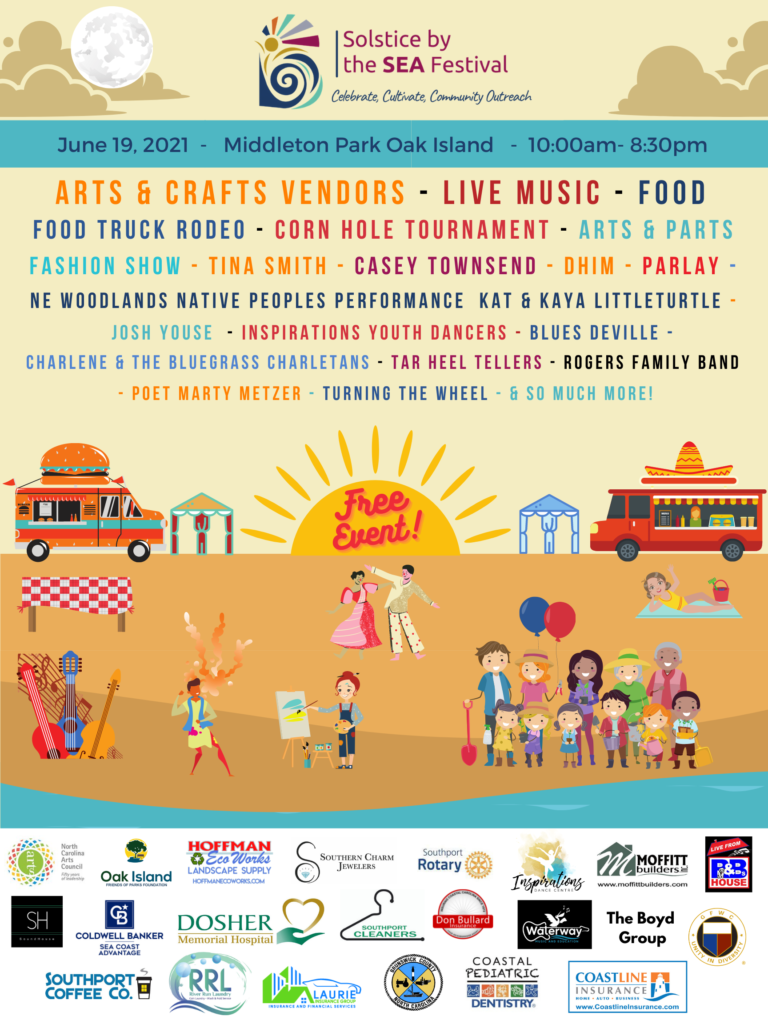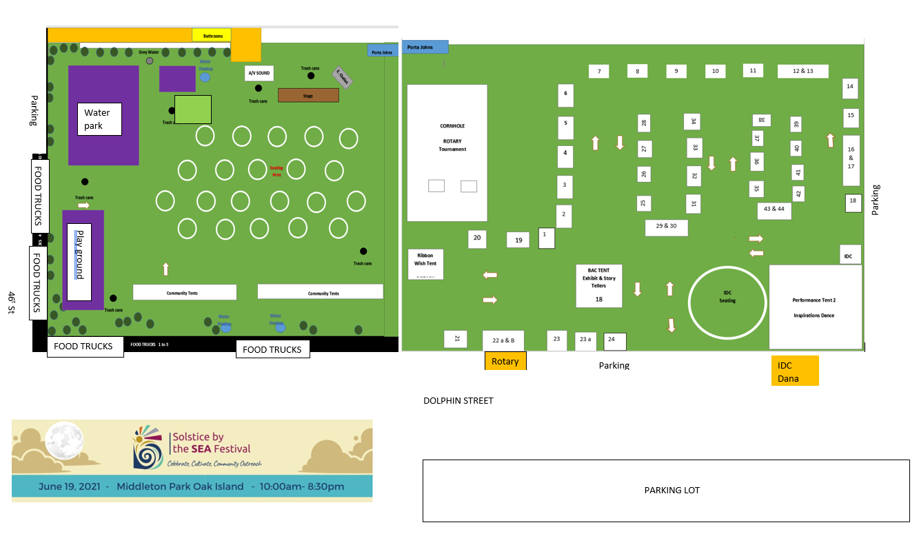 https://www.google.com/maps/d/u/0/edit?mid=16Sio3jcpG5oZjoMnZDsuWBR-eaBRqGL7
Join Us for the 1st Solstice by the Sea Festival on Oak Island!
MUSIC, DANCE, ARTS & CRAFTS, POETRY, STORY TELLING, FOOD & CORNHOLE TOURNAMENT, Saturday, June 19, 2021 10 AM-8:30 PM –  DEBUTS NEW SONG "HARD" BY TINA SMITH LIVE!
Join us for this free community event! This day of local Brunswick arts and activities is brought to you by Brunswick Arts Council, Friends of Oak Island Parks, Southport Evening Rotary, Inspirations Dance Centre & The SoundHouse.  The Middleton Sports Fields (46th & Dolphin St.) will have multiple places set up –
Stage 1 (Raised) Music & More
10 AM             NE Woodlands Peoples (Kat & Kaya Littleturtle)
10:50 AM        Josh Youse
11:40 AM        Casey Townsend
12:25 PM        Poet, Marty Metzer
12:50 PM        Charlene & The Bluegrass Charletans
2 PM                Blues DeVille
3:15 PM          Rogers Family Band
4:30 PM          DHIM
5:45 PM          Parlay
7 PM               Tina Smith- New Song Debut!
Stage 2 (Performance Tent) Dance & More
10 AM             Open with Brunswick Sheriffs
10:10 AM        Inspirations Dance Centre & Brunswick School of Dance
12:15 PM        Zoe Brockenborough
12:30 PM        Inspirations Dance Centre & Brunswick School of Dance
2:45 PM          So Brunswick Cougar HS Dance Team
3:00 PM          TLC Band
4PM                Arts & Parts Recycled Fashion
5PM                Turning the Wheel
6PM                Miss Brunswick Performances
7PM                Open Mic
BAC Hospitality Tent
10 AM -7 PM   Youth Art Contest Exhibits Brunswick County Planning 2040
& Poetry Opens Doors
2-4 PM             Tar Heel Tellers (Story time with Joan Leotta, Marva Moss & Donna Catton-Johnson) & Poetry
Arts & Crafts Vendors & Community Booths
10 AM to @5 PM        Visit these different artists & community booths— buy a gift, find that gift or cool art you've always wanted or come meet your neighbors. And see what community groups are helping to make Brunswick County special!
Solstice Wish Tent
10 AM to @ 7 PM       Make a wish & Tie a ribbon!
Southport Evening Rotary Corn Hole Tournament—Cash prizes!
4-8 PM            Register onsite with Coastal Tailgating online or day off event at their tent. Blind Draw. Cash prizes.
Southport Rotary will also have a "splash the car"- with paint sponges!
Our Sponsors are:
Bronze Level are Coastal Pediatrics Dentistry, Coastline Insurance, Coldwell Banker, Craig Boyd Group & Blue Cross, Don Bullard Insurance, DOSHER, Laurie Insurance Group.
Patrons are GF Women's Club of South Brunswick Islands, Hoffman Eco-works
Friends are Moffitt Builders, River Run Laundry, R&B House, Southern Charm Jewelers, Southport Cleaners, Southport Coffee Co., Waterway Music.
TINA SMITH UNVEILS NEW SINGLE "HARD "
Tina Smith has scheduled the release of HARD for July 4 via Bread and Nails Productions/Soulshield Music The release of HARD is a departure from the pop/light rock perspective of her last album AWAKE; the track is aptly named to reflect the harder rock feel of this new release. Unapologetically direct, HARD is an anthem of emotional self-defense, a battle cry for those who have finally reached the point of saying "enough is enough." Written, produced, and engineered by Lynwood Salvo (House of Wood), HARD contains instrumental tracks from Rico Milazzo and Tony Blunt, both now-deceased members of the rock powerhouse group The Project, as well as tracks from Salvo and Smith, also members. This single is special due in large part to the priceless contributions of Milazzo and Blunt, as well as the beautifully executed instrumentation of Salvo and the consistently excellent vocals of Smith. The release of HARD will be followed by a beautifully filmed video, produced and directed by Tina Smith, with cinematography from Seth Gearhart (Seth Gearhart Media). The video further explores the emotional journey required to reach a point of self-love and protection when relational boundaries have been negatively breached. The work of Tina Smith is consistently, deeply personal and HARD is no exception. The interpretation of the lyrics reflects the experiential honesty found in her own lyrical work and the passion in performance for which she is known. Find out more at theartofbeingtina.com
Food Truck Vendors
Sea Dog Hot Dog
Papadoms
Island Ice
Poor Piggy
Dixie Kettleland
Snowie of the Carolinas
Qspresso
Hole Mole
Poblanos and Tacos
Pelican SnoBALLS
Darla's Cookies
Beach Bumzz
Enjoy the eats!