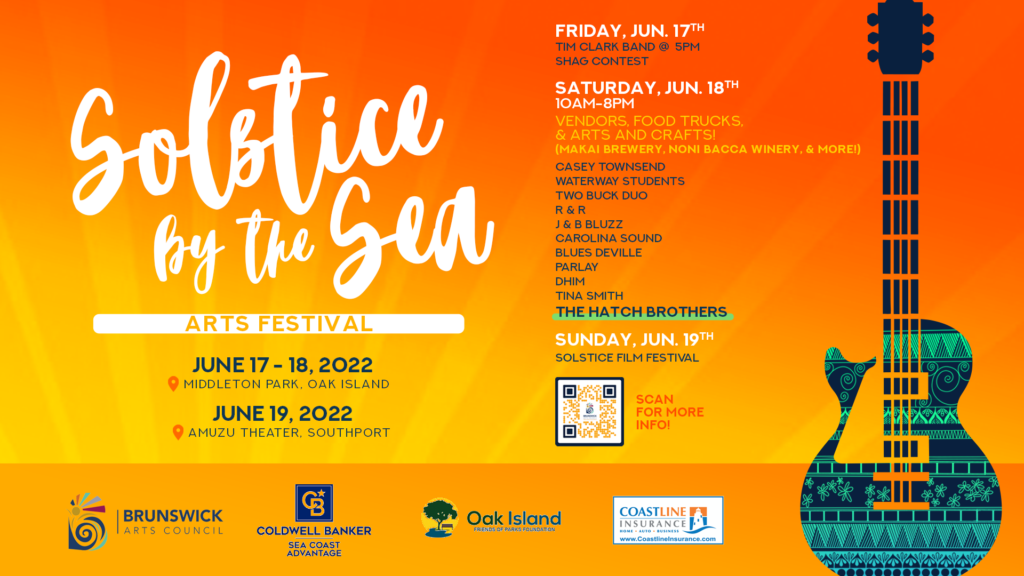 Join Us for our 2nd Annual Solstice by the Sea Festival at Middleton Park Oak Island!
MUSIC, DANCING, ARTS & CRAFTS, POETRY, STORY TELLING, FOOD &  Much More!, Saturday, June 17-19, 2022 10 AM-8:00 PM –  
The Hatch Brothers 7pm
Join us for this free community event! This day is brought to you by Brunswick Arts Council, & Friends of Oak Island Parks.  The Middleton Sports Fields (46th & Dolphin St.) will have multiple places set up –
Stage Music & More
Friday Performance Middleton Park
6:30 – 8:30PM        Tim Clark Band ( Shag Demo )
Saturday Performances Middleton Park
10 AM          Casey Townsend and Waterway Students
10:50 AM     Voice of Adonai
11:40 AM      R & R
12:25 PM      J & B Bluzz
1:10 PM        Carolina Sound
2 PM             Blues Deville
3:15 PM        Parlay
4:30 PM        DHIM
5:45 PM        Tina Smith
6:30-8 PM    The Hatch Brothers
BAC Hospitality Tent 
10 AM -8 PM  Brunswick Arts Council
Vender check in
Water station
Save A Vet Now Art Sales
Woodard Day Center Art Sales
Arts & Crafts Vendors & Community Booths
10 AM to @5 PM        Visit these different artists & community booths— buy a gift, find that gift or cool art you've always wanted or come meet your neighbors. And see what community groups are helping to make Brunswick County special!
Solstice Wish Tent
10 AM to @ 7 PM       Make a wish & Tie a ribbon!
Our Sponsors are:
Bronze Level
Patrons
Friends
Food Truck Rodeo
Food Truck Vendors provided by Friends of Oak Island Parks and Recreation
10:00 a.m. – 8:00 p.m.
Oak Island Friends of Parks Foundation
PO Box 496
Oak Island, NC 28465
910-278-5518
$100 per truck. Please make check payable to the Oak Island Friends of Parks Foundation
Click here for food truck application form
Enjoy the eats!
Sunday, June 19  – Film Festival at AMUZU Theater, Southport
New event for this year – we will be celebrating  the "short film " and encourage you to come see what our local film artists have created. Films will be 15 minutes (or less)- entries will be screened and juried – selected for showing.
2:30 PM               AMUZU Doors open
3:00 PM               Film Festival Starts
5:50 PM               Awards Presented
6:00 PM              Film Festival Ends
Attend the Film Festival
Tickets will be available online purchase only $20/ each. Each ticket will receive a bottle of water, popcorn & snack!  Seating is limited to 95 people.  Print your receipt and bring it with you to the venue.
CLICK HERE to PURCHASE TICKETS.
Are you a film maker?  If you have a short film – (15 minutes or less) that has been created  recently, please CLICK HERE to Learn about the guidelines and entry process.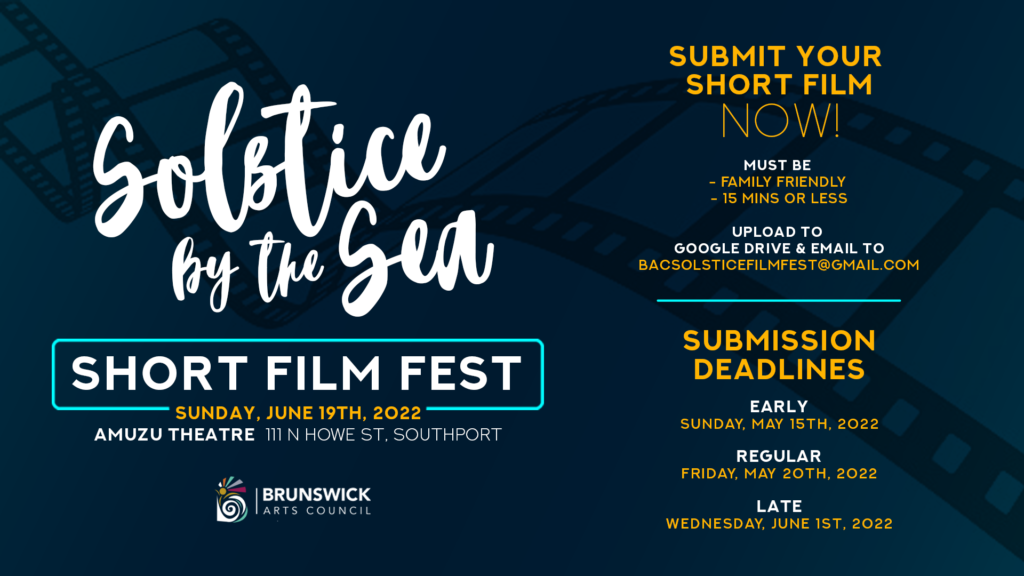 Please enjoy the videos from our 2021 Solstice by the SEA Festival